Both warbands made for the deserted desert outpost and neighboring cave. Anta and her adversary Thanthos both new the priest the villagers had hidden lay within.
The Titan Master beat Anta's Spy to the neighboring cave, which proved beneficial for the Spy as from within a fiery light grew stronger until it scared all the darkness out and a Bronze Bull revealed itself!
Seeing the Tower would be overrun by titans soon, the Priest of Zues attempted to make a run for it. The local village had dressed him in Beastmaster garb to better hide his identity, but out on the battlefield, he might as well have been outfitted in his traditional Hellene dress.
The Bronze Bull reacted as any bull would and charged the closest thing he saw, which happened to be the same Titan Master who discovered him.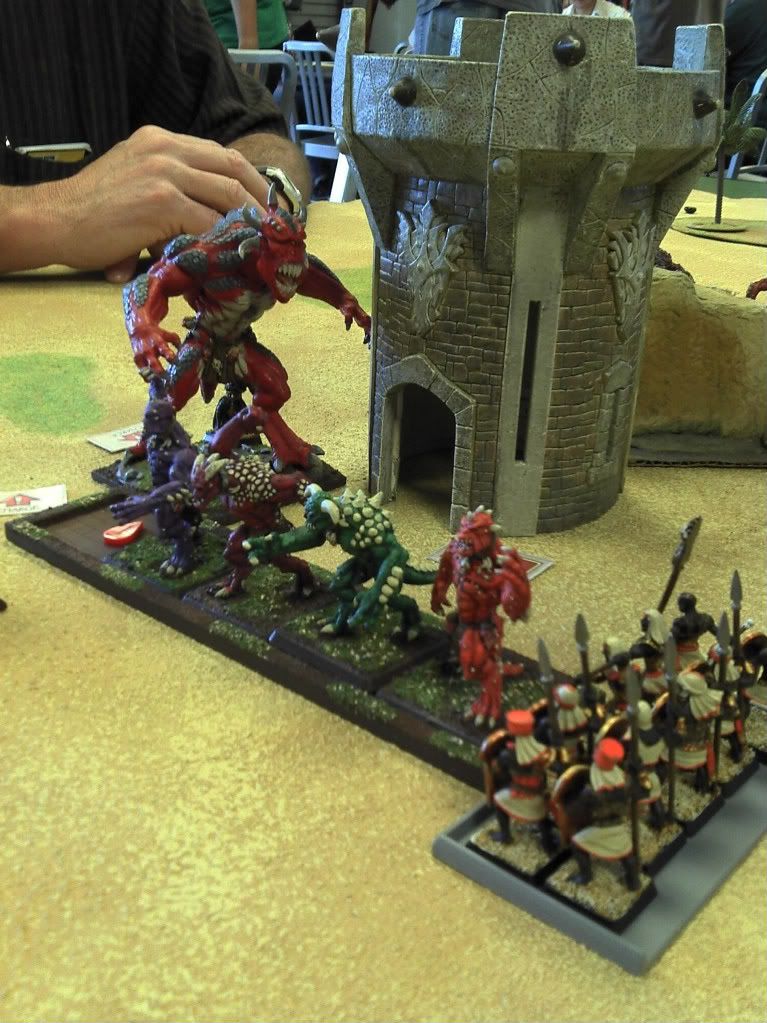 Thantho's Slaves ran forward blocking Anta's Spear's route to the the Priest. With but a flick of his wrist Thanthos knocked the Priest out and picked him up.
Anta's Spears showed exceptional bravery as they broke the Slaves, only to have to prepare themselves for the charge of Thanthos pet, Sssahaska. They bravery was surpassed only by her Spy and his Baboon Servant who heedlessly charged into the hulking Overlord!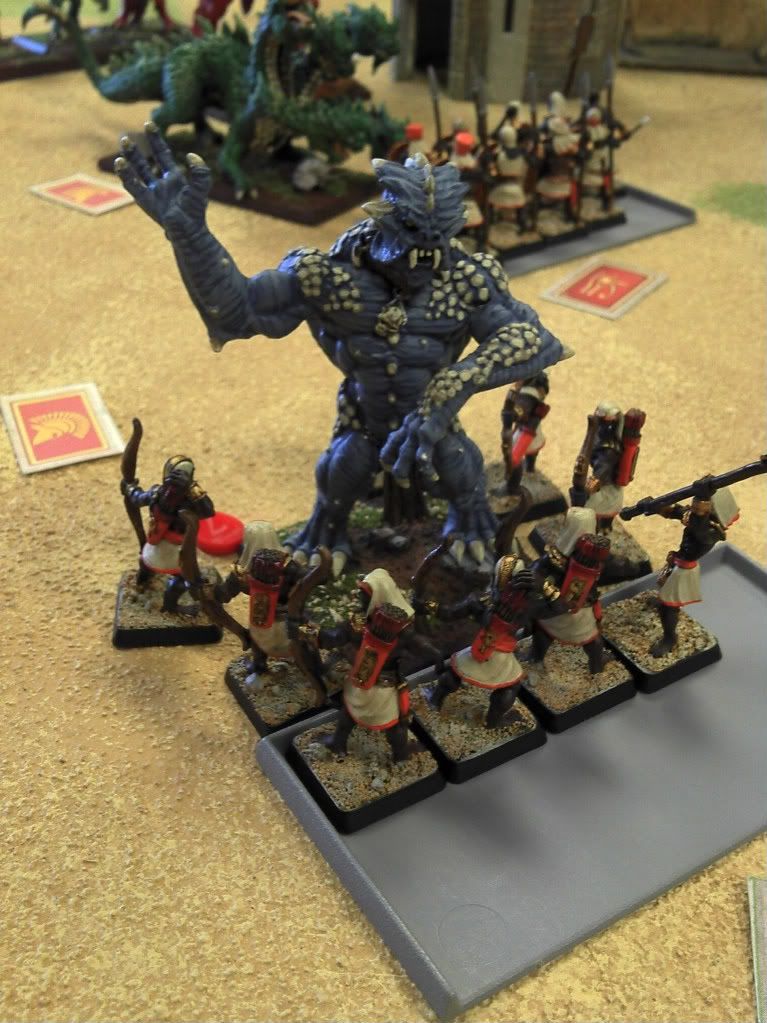 Anta's left flank began to crumble as her archers were no match for the Titan Master...
Soon they routed, but her Master of Words immediately through up a fiery barrier, saving those archers who had not perished.
By now Thanthos had smashed the Baboon Servant into a fleshy bob and picked up the Spy with his free hand. Try as he might the Spy could do nothing to lessen the monster grip on him. Before he knew it the poor Assar felt hiself flying threw the air to his death. His last vision was of the approaching Khemru.
A titanic struggle continued between the two behemoths and though the Master was near fatally wounded, he would best the bull! Having seen the bull fall, Anta ordered her warband to fall back, the Priest, she feared was dead, or would soon wish he were..
---------------
Slayer of the Minotaur Lord of Knossos (S.D. '10), Savior of Calydon (S.D. '11)